MARGINS… FOR DANCE, FOR MOVEMENT, FOR THE BODY, FOR WATER
A 5 days encounter  for somatic-poetic investigations of movement and other water reveries.
SAOVENTO FAZENDA CRIATIVA
Mogiquiçaba / Belmonte / Bahia
25th-29th January 2017
Inside Out – sensorial awakenings
During Margins, Rebecca Marta D'Andrea (Italy/UK) will propose a series of early morning contemplative practices to wake up and tune in the senses, focusing on the relationship between felt-sense, breathing and the gravity field, tracking how the movement of our attention threads and shapes our perception of the present moment. Exploring movement, vocalization, gazing and drawing to free the 'self that moves' and prepare for the dancing day.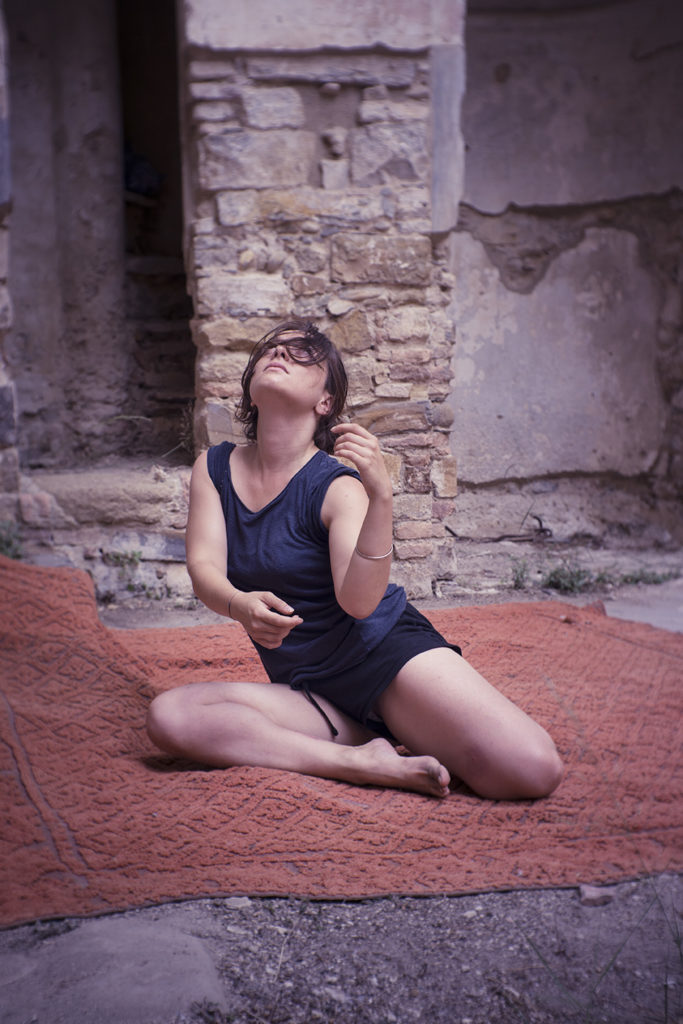 REBECCA MARTA D'ANDREA
Rebecca Marta D'Andrea is a dance artist based in Bristol. Her work explores improvisational forms of creativity across different mediums, as a way to investigate the role of perception in shaping and being shaped by our environment. She graduated in Choreography at Dartington College of Arts in 2006, and has ever since continued studying and researching composition and improvisation (Inteatro Festival Academy 2007, Milon Mela Residency 2008, OperaEstate BMotion Master Classes 2008-2011, Gd'A Prize Veneto Professional Development 2010, P.O.R.C.H. Ponderosa 2012).She creates performances and installations internationally in collaboration with other artists (Disabitata-Dresshead, (2010); The Void, Punti di Svista (2011);When, Practices for Embodied Freedom, (2012); Intrecci, Totem Archaeology of the Body, Les Etoiles qui Tombent (2015); Tracing Invisible Identities, Body as a Context for Reconnections (2016); and co-organizes performative events to promote the dialogue across art forms (Reconnections 2015, Kuumba Live Creations 2013-16). In Bristol she facilitates some of the warm up classes for Bristol Contact Improvisation, and shares elements of her own movement research at The Island Dance Space and other venues (Inside Out Dance Classes 2013-16, Experimental Bodies 2014).The score written for "Totem Archeology of the Body" has been recently published in Italy as part of the Anthology: "Performance Project:#Complici di una Scena Presente" curated by Max Schiavoni.
She has currently completed an MA in Creative Practice at Trinity Laban, Independent Dance and Siobhan Davies Dance with the support of a Gill Clarke Bursary, of Leverhulme Arts Scholars Awards
More info can be found at rebeccamartadandrea.wordpress.com.
COSTS
Discounted places for volunteers are available…Please be in touch if you would like further information!
Workshop: 300,00 reais
Food (three meals per day x 3 day, dinner on the arrival day, breakfast and lunch on the leaving day): 196,00 reais
Accomodation Options:
A) Shared Bungalows (only 6 places in 3 double beds):
Chalé (70,00 reais x 4 nights) : 280,00 reais
Total cost (accomodation+food+class) = 776,00 reais
B) Dormitory (14 places only):
40,00 reais x 4 nights : 160,00 reais
Total cost (accomodation+food+class): 656,00 reais
C) Tent (25 places only) :
20,00 reais x 4 nights : 80,00 reais
Total cost (accomodation+food+class ) : 576,00 reais
Bookings:
To confirm the reservation is necessary to send 30% of the total cost, calculated at the time of booking.
Bank details and the registration form will be sent privately by email.
Bookings will be open until  the 22th of January 2017 
CONTACT: margins2017@gmail.com
Tel SAOVENTO: +55 (0) 73 991232302: +55 (0) 73 999032080